Hardscape Services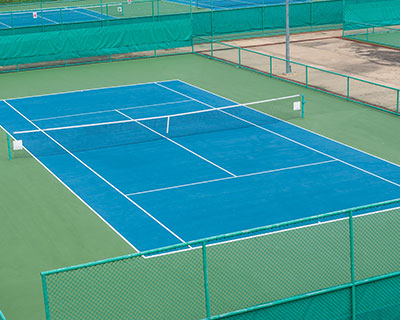 At Hardscapes Unlimited, we provide expert game court installation and a range of other services in areas like Middleboro, West Wareham, Wareham, Rochester, and Plymouth. We have also installed basketball courts for clients in Bourne, Mashpee, Assonet, Halifax, and Marion. These are the wide variety of services we offer:
Basketball Courts
Basketball courts come in different designs and sizes and you can choose something that fits your needs and property well. We are a leading company in this space and our experienced basketball game court installers have handled a significant number of similar projects over the years. We can provide recommendations specific to your personal requirements. You can choose from a half court or a full court and the sizes and construction will be designed to perfection. We have the skill and expertise to design and build concrete, asphalt, Versacourt or acrylic surfacing for basketball courts. We will ensure the game court is built to industry standards using top quality materials and workmanship. Read More About Basketball Courts >>
Tennis Courts
We have vast experience with tennis court installation and you can trust us to install a durable, easy-to-maintain game court on your property. You can choose from grass, clay or hardcourts made from asphalt or concrete as well. However, today, there are advanced materials such as Versacourt that are ideal for all types of tennis court installations. Our team will have detailed discussions with you about your requirements and will ensure that your tennis court is built just the way you envisioned it. We use top grade materials in our work and skilled and experienced installers handle the job. Read More About Tennis Courts >>
Volleyball Courts
If you want a well-designed, durable volleyball court, we are the company that can handle the job for you. Volleyball courts generally have a sanded surface but we can also install concrete, asphalt, or Versacourt surfaces depending on your preference. When we handle the job, you can rest assured that your volleyball court will be designed perfectly and installed to industry standards. Our expert installers will make sure the game court installation is completed meticulously and within the stipulated timeframe. High-grade materials will be used, ensuring the durability and resilience of the feature. Read More About Volleyball Courts >>
Pickle Ball Courts
Pickleball is a game that incorporates various elements of tennis, badminton and ping pong, and people familiar with these games will find it easier. We have extensive expertise in installing all types of game courts including pickleball courts. These installations will be designed with care and installed as per industry standards. The court size and layout will be planned in a detailed manner and you can choose from materials such as asphalt, concrete or Versacourt for the feature. Our team will provide you with all the information you need about these different materials, which will help you decide what works best for you. Top quality materials and the best workmanship ensure that your pickleball court is installed to industry standards and will provide years of trouble-free service. Read More About Pickle Ball Courts >>
Badminton Courts
When you hire us for badminton court installation you can rest assured that highly experienced and skilled professionals are managing the job. We are a leading company in this space that has the expertise to design and build badminton courts of materials such as concrete, asphalt or Versacourt. Our team will have detailed discussions with you, to understand what your specific needs are and will provide solutions that fit in perfectly with your needs. You can rest assured that the badminton court we design and install for you will be durable, stable and resilient. Read More About Badminton Courts >>
Roller Hockey Courts
We can design and build top quality roller hockey courts for you. Not only will these courts be durable, and carefully installed, but will be made from the top quality materials available today. We will ensure that the installation is carried out to industry standards and that the court's surface is smooth and resilient. There are different materials to choose from such as concrete courts with acrylic surfaces or even Versacourt which is a modern and advanced material ideal for all types of game courts. We work very closely with you and make sure that the entire project runs on schedule and to your 100% satisfaction. Read More About Roller Hockey Courts >>
Versacourt
We specialize in various indoor and outdoor modular surfaces for Multi-Game Courts, Tennis Courts, Shuffleboard Courts, Basketball Courts, and Accessories for Basketball Hoop & Basketball Goal Courts. VersaCourt™ is suitable for commercial outdoor/indoor tennis courts or even for backyard basketball courts. Our use this state-of-the-art athletic court surface in the construction of multi-game courts, tennis or basketball. It is ideal for all types of new outdoor basketball courts or even for resurfacing of worn out or old concrete or asphalt home/commercial tennis courts. In addition, we offer top quality basketball goals which allow you to shoot basketball hoops with ease and style. Read More About Versacourt >>
Interlocking Pavers
Interlocking pavers like the ones that Belgard. Unilock and Allan Block manufacture are resilient, aesthetically appealing, easy to install and maintain, as well as extremely durable too. Most landscape projects make use of different types of pavers. Our team of expert designers works very closely with you to ensure that the paver design and pattern is chosen for your requirements and preferences. There are a number of different be rose to choose from including ones that emulate the look of brick, natural stone as per your needs. You can rest assured that we will install these to perfection, so your property looks stunning and provides the functionality you need. Read More About Interlocking Pavers >>
Retaining Walls
Retaining walls are an integral aspect of most landscapes; these are specially engineered to provide support to the outdoor spaces of your property and prevent soil erosion. We use high-grade concrete masonry blocks manufactured by companies like Belgard. On our team are expert installers that have handled a significant number of retaining wall projects over their careers, and you can be sure that the features we design and install for you will be resilient and durable. The location of these retaining walls will be planned carefully and the installation will be handled expertly. While we focus on aspects such as functionality and durability, we also make sure that your retaining walls add to the beauty and value of your landscape. Read More About Retaining Walls >>
Natural Stone
While there are a large number of different, new and advanced materials launched in the market with regularity, there is a distinct, classic appeal to materials such as natural stone. We use a variety of natural stones in our projects such as flagstone, travertine, sandstone, bluestone, slate, limestone, marble and granite etc. Natural stone fits in well with the modern aesthetic as well as more traditionally designed landscapes. The cut, texture, polishing, and finishing of the natural stone will decide whether it fits a casual or formal style. We can design natural stone steps, wall systems, flooring for patios, decks as well as pool areas and more. Read More About Natural Stone >>
Fencing Products
Most homeowners prefer to get a fence installed on their property and safety, privacy and security of some of the commonest reasons for opting for these features. They are a great option for homes that have children and pets, and the right type of fencing can also keep unsavory elements out of your property. We can design and build fences of different types and styles based on your specific requirements. You can choose from materials such as wood, metal, aluminum, wrought iron, concrete and more. The designers will work closely with you to understand what your ideas and vision for the spaces are and will design a concrete fence that meets your needs to perfection. Read More About Fencing Products >>
Personal Putting Greens
Many people like the idea of having a mini golfing green on their property. We recommend the use of synthetic putting greens, which are easy to install and maintain as well as durable. You don't have to worry about maintenance aspects such as watering, fertilization, pest control etc. Today that are a large number of modern materials in the market that are extremely resilient, fade-resistant and provide years of trouble-free service. Over the years we have handled a large number of putting green installation projects for customers across the region. Our team will design and install features that will fit your needs. You can rest assured that the feature we install for you will be planned to perfection and installed to industry standards. Read More About Personal Putting Greens >>
Outdoor Living
Here at Hardscpae Unlimited we pride ourselves on making our clients outdoor living visions a reality. Our teams of professional landscape designers and contractors will ensure that you get the most out of your outdoor space. We will change the way you utilize your outdoor by adding areas for relaxation or entertainment. It's all about making your outdoor area work you. Talk to our friendly team about creating beautiful patios, outdoor kitchens, pergolas or decks, today! Read More About Outdoor Living >>
We go the extra mile to make sure that our clients are 100% satisfied with the solutions we provide. If you want to know more about our services, feel free to get in touch with us at Hardscapes Unlimited. You can call 508-947-1272 or contact us through our form. One of our team members we have worked within the shortest possible time.